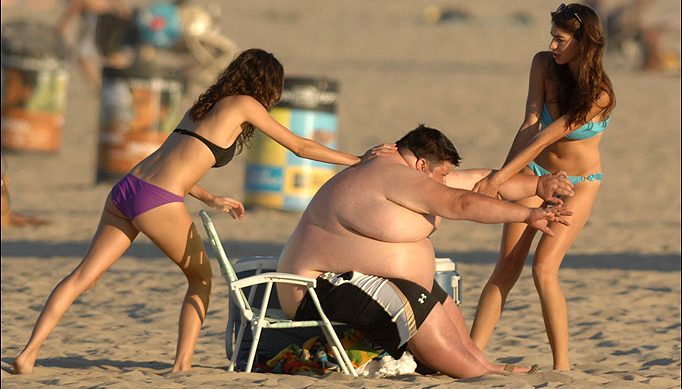 Solve your summer body
daveg
April 19, 2016
It's sunny out and we are all panicking

Layers come off and we realise that dominos meal deal for 4 was not a good idea
^ especially when it was just for 1
Now we are looking for a magic way to get back in shape coz we've forgotten how
No fear, Uncle Davey is here with 5 very simple (but highly effective) tips to get you on the road to slimville
1. Lift! Yes you knew I was going to say it. The best way to get a SHAPE is to lift weights. Keep it simple and get 3-4 total body sessions a week in
2. Sprint! If you're going to do cardio then you might as well do it properly. Find a pitch, a long stretch or a beautiful hill and sprint flat out for 30 seconds. Recover 30-60 seconds and repeat again and again. Work your way up to a total of 10 sprints after a few tough sessions
3. Move! Yes this sounds like tip 1 & 2 but it's not what you think. Way too many people sit around all day, either at the office, in the car, on the couch or in bed. Move around more, use the stairs, go for a walk or have lots of bedroom antics
4. Sleep! Yes this is important. After bedroom antics get some shut eye! Way too many people don't get enough hours asleep and wake up lethargic each day. Low energy means less movement and looking for sugar fixes. Less calories burned and more calories eaten will not be a good combo for your fat loss ambitions
5. Eat! The most important thing of all. You need to eat. Don't starve yourself on 500 calorie daily plans. Reduce your calories by no more than 10% at the start and just focus on eating more of the good stuff. Lots of protein (meat, fish, eggs), plenty of veggies (variety is key) and some carbs that'll keep you full and energetic (oats, rice, sweet potato). Keep drinking plenty of water and you're on to a good thing!
Hope the above helps you beautiful people!
Oh and if you haven't heard already Results Ireland made it to the finals of the People's Choice Awards – thanks to all of you of course!
You can now all vote again and we can take home the trophy which is of course fully deserved in my humble opinion!
Linky
http://www.galwaymarketing.ie/awards/peoples-choice/

Laters
Dave